Graduate to the next level
The CRF110 is all about big-bike feel and huge fun. Built for the 8-11 age range, it's got a sturdy chassis, electric starter and reliable 4-stroke engine. It is the perfect stepping-stone up to more competition-focused 125cc/150cc MX and enduro machines.
CRF110F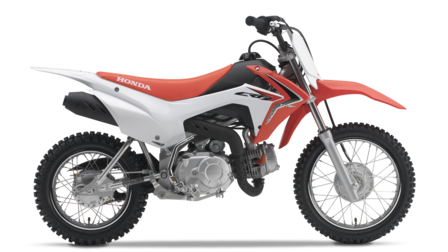 This is more like a simple loan. You decide on the model and put down a deposit the same way as with PCP. We calculate for you how much you want your fixed monthly payment to be, and the term. That means you know up front how much your Honda will cost each month until it's paid off and you own the bike. 
| | |
| --- | --- |
| CRF110F (VPL) |   |
| OTR | £2,069.00 |
| Deposit | £298.80 |
| Amount of Credit | £1,770.20 |
| 24 Payments of | £79.00 |
| Duration | 24 months |
| Total Amount Payable | £2,194.80 |
| Representative APR | 6.9% |
VPL Terms and Conditions: New CRF110F, Subject to model and colour availability. Representative Example based on 2 years 6.9% VPL. Offers applicable at participating dealers and are at the promoter's absolute discretion. Indemnities may be required in certain circumstances. Finance is only available to persons aged 18 or over, subject to status. All figures are correct at time of publication but may be subject to change. Credit provided by Honda Finance Europe Plc. Cain Road, Bracknell RG12 1HL. Honda Finance Europe Plc is authorised and regulated by the Financial Conduct Authority, Financial Services Register number 312541.
Introduction
The youth market for off-road motorcycles is growing, and looks set to do so for the foreseeable future. These days riding off-road, in trail parks, motocross tracks or even back yards, can be very much a family activity that involves everyone.
It's also a great, and enjoyable, introduction to motorcycling and readily builds skills and machine control, so useful later on whether out on the road or in competition. For Honda, acquiring young riders early in their careers is a great introduction to the brand, its core values and most importantly, its motorcycles.
Model Overview
Honda's CRF110F is a brand new motorcycle, and replaces the popular CRF70F. It is aimed squarely at the 8-11 year old age range, and happily accommodates heights between 120-145cm and weights between 30-50kg. Primarily designed for leisure riding, it also provides a valuable stepping-stone up to more competition-focused motocross and enduro machines in the Honda range.
The CRF110F's engine offers more power and torque, and also features an electric starter; a brand new steel frame with improved suspension also adds to the 'big-bike' feel and performance. With styling inspired by the 2013 CRF450R, the family resemblance is more than passing, further reinforcing the CRF110F's appeal.
Key Features
Engine
With a bore and stroke of 50mm x 55.6 (as opposed to the CRF70F's 47mm x 41.4mm) the CRF110F's air-cooled two-valve SOHC engine now displaces 109cc, rather than 72cc. Power and torque figures rise from 3.6kW/5Nm to 5.35kW/8.85Nm; power is up 49%, torque 77%. The result is greatly improved performance everywhere in the rev-range, and much stronger and more consistent drive out of corners.
The automatic twin clutch system features two types of independent clutch – one for starting, the other for shifting – that makes changing gears easier and smoother than a conventional system. The transmission now also has four gears, instead of three. The engine start switch is on the right hand side of the handlebar, the engine stop switch is on the left.
A 1.2L airbox (the CRF70F used a 0.25L airbox) provides the much greater airflow that the larger capacity engine requires. The exhaust muffler cover is all new; partly for aesthetic reasons but also for improved protection. For more reliable performance digital ignition now gives the engine optimum ignition timing.
Chassis
To make best use of the CRF110F's extra power and torque a new chassis was required. The new steel backbone frame and swingarm blends a high balance of rigidity with a certain amount of tuned flex, allowing the rider to fully exploit the engine's capabilities. The frame also incorporates safety covers at heat points, and carrying handles for easy transport.
The suspension has been completely uprated, for better traction and stability. The telescopic front fork diameter is 31mm, 4mm larger than the CRF70F and has 100mm of travel, while the rear shock absorber features a 28mm piston damper, up 7mm, with 90mm travel. Drum brakes front and rear provide ample, and measured braking force. The front wheel size is 14in with a 2.5 x 14 tyre; the rear 12in with 3 x 12 tyre.
A completely new body kit, with echoes of the CRF450R's 'triangle proportion' gives the CRF110F a crisp and modern appearance. The newly designed chain cover looks great and with the addition of a handlebar pad aids safety. Wide-set footpegs increase control, and the redesigned kick-starter is easier to use. Seat height is 667mm, 5mm taller than the CRF70F – but the lowest in class – and the wheelbase is 7mm longer at 1070mm. Fuel capacity is 4.9L, and wet weight of the CRF110F is 74kg.
** Please note that the figures provided are results obtained by Honda under standardised testing conditions prescribed by WMTC (World Motorcycle Test Cycle). Tests are conducted on a rolling road using a standard version of the vehicle with only one rider and no additional optional equipment. Actual fuel consumption may vary depending on how you ride, how you maintain your vehicle, weather, road conditions, tire pressure, installation of accessories, cargo, rider and passenger weight, and other factors. - All specifications are
provisional and subject to change without notice.
More Information

| | |
| --- | --- |
| Special Price | No |
| Type | Off Road |
| Engine Type | Air-cooled 4-stroke 2-valve SOHC single-cylinder |
| Engine Displacement | 109 cm³ |
| Max Power Output | 5.35 kW / 7500 rpm |
| Max Torque | 8.85 Nm / 3500 rpm |
| Bore x Stroke (mm) | 50 x 55.6 |
| Front Brake | 95mm Drum |
| Rear Brake | 95mm Drum |
| Front Suspension | 31mm fork, 100mm stroke, 90mm axle travel |
| Rear Suspension | Mono shock, 59mm stroke |
| Front Wheel | Wire spoke |
| Rear Wheel | Wire spoke |
| Dimensions | 1,560 x 686 x 912 |
| Frame Type | Steel Backbone |
| Fuel Tank Capacity | 5 litres (including reserve of 1 litre) |
| Kerb Weight | 74kg |
| Seat Height | 667mm |
| Clutch | Multiplate Wet Clutch & Automatic Centrifugal Clutch |
| Final Drive | Chain |
| Gearbox | 4-speed |